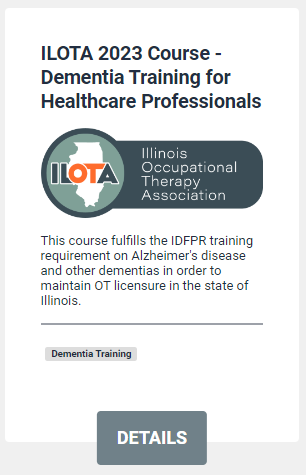 ILOTA 2023 Course - Dementia Training for Healthcare Professionals
Registration Fees - Members: FREE  Non-members: $25
(CE credit: 1.0 contact hours in training on Alzheimer's disease and other dementias.)
This course fulfills the IDFPR training requirement on Alzheimer's disease and other dementias in order to maintain OT licensure in the state of Illinois. (If you are concerned that this requirement may NOT apply to your situation, please take a moment to scan the actual (brief) regulation here. See section (b) regarding working with "adult populations age 26 or older in the practice of their profession".)
Illinois has become the first state to require Alzheimer's diagnosis training for healthcare professionals. The bill, which went into effect January 1, 2023, requires all healthcare professionals with continuing education requirements to complete at least a one-hour training course during each license renewal period. Occupational Therapy Practitioners will need to attest to this requirement when they renew their licenses in December 2023.
Participants in this training will be able to describe:
The current incidence and future projections regarding Alzheimer's disease and other dementias

Assessment and diagnosis

Theories for staging progression

Effective communication strategies

Behavior management

Strategies for ADLs and IADLs and care planning
This course is available on ILOTA's Learning Management System (LMS) website at this link. After you successfully register for this course, you will be sent a confirmation email message with a link to our LMS website. You will have to log in to the LMS website with the same Username and Password credentials that you use to log in to our www.ilota.org website, as a member or non-member. After viewing the recording, you must successfully complete (80%) a 5-question assessment in order to receive your CE certificate. The CE certificate will be emailed to you, and will be available on our LMS website under: My Account > My Certificates.
Registration Fees - Members: FREE  Non-members: $25
1.0 contact hours of continuing education credit in training on Alzheimer's disease and other dementias will be awarded after viewing the video recording and successfully completing (80%) the assessment.
Course content, registration, assessment, and records provided and maintained by the Illinois Occupational Therapy Association.
The Illinois Occupational Therapy Association (ILOTA) is a recognized affiliate of AOTA. ILOTA is an approved CE provider in the
State of Illinois as indicated in Illinois Occupational Therapy Practice Act Rules Section 1315.145.