6th Annual ILOTA Student Conclave
Schedule
Saturday, March 25th 
7:45 am - 8:15 am
Registration - Continental Breakfast Available
8:15 am - 9:15 am
"NBCOT® National Certification Exam:  Information You Need to Know"
Presenter: Barbara Williams, DrOT, MS, OTR, Associate Director, External and Regulatory Affairs, National Board for Certification in Occupational Therapy, Inc. (NBCOT®)
Description: Connect with NBCOT and hear about the best approaches to achieve your goal for Occupational Therapy Certification. Specific topics include exclusive details about the exam, study tool resources, and test day information. This presentation will allow you to be better informed about the various aspects of the national certification exam.
9:20 am - 10:35 am
Keynote Presentation: "Passion is Sharable"
Presenter: Maud Makoni, OTD, OTR/L, CHT
Description: What excites you the most about occupational therapy? How is that related to your passion and purpose? The answers to these questions is the fire that stimulates growth within our profession. Persons and populations we serve rely on us to drive and motivate them to live life to the fullest. Let's learn how to cultivate and share your passion for speaking up for the greater good.
Dr. Maud Makoni is an Assistant Professor at North Central College, the Illinois Assembly Representative for the American Occupational Therapy Association (AOTA) and an occupation-based certified hand therapist who is passionate about advancing occupational therapy while maintaining roots in human occupation.
10:40 am - 11:25 am
"How to Market your Experience on the Job Hunt"
Presenter: Ryan Cleaveland, CEO, Spotter Staffing
Description: Learn from an established leader in the industry - the CEO of Spotter Staffing - how to market yourself as a new graduate and how to highlight your experiences and strengths during the job search.
11:30 am - 12:00 pm
"OT Practitioners in Emerging Practice Settings"
Description: This session includes a panel of occupational therapy practitioners from various practice settings that are considered to be newly unfolding within the profession. Specific topics include what a typical day looks like, the impact of occupational therapy within their area of practice, and some of the rewarding experiences within these emerging practice settings.
12:00 pm - 1:00 pm
Lunch
1:00 pm - 1:55 pm
Optional Breakout Sessions:
Fieldwork Workshop: This breakout session includes a panel of occupational therapy practitioners and students who will share their insight on the fieldwork experience. They will provide expectations of students, opportunities for growth, and provide advice for a successful fieldwork rotation.

Creating Catalytic Capstones: This breakout session includes a panel of occupational therapy practitioners and students who will share their doctoral capstone experiences. They will each share their journey to selecting a capstone project, the process it entailed and future implications.  

A Conversation about Unilluminated Occupations: Where do they fit with Occupational Therapy?: This conversation will consider the results of a mixed methods study focused on including unilluminated occupations in our discourse and in the practice of occupational therapy.  Fifty-five OTPs completed a survey exploring occupations that have not traditionally been included in our research, teaching, and practice.  Sixteen survey respondents participated in three focus groups regarding the importance and the challenges of addressing these occupations as a profession.  Results will be shared, and key themes will be put forward for discussion.
2:00 pm - 2:55 pm
Optional Breakout Sessions (repeated):
Fieldwork Workshop
Creating Catalytic Capstones
A Conversation about Unilluminated Occupations: Where do they fit with Occupational Therapy?
3:00 pm - 3:30 pm
Closing Remarks
Additional Activities and Services
Resume Reviews: Deadline to sign up is March 19th. We will have multiple industry recruiters, hiring managers, and experienced practitioners available to provide you with feedback and advice on your resume. Resume reviews are available between 12:00 pm to 3:00 pm, by appointment only, and will run concurrently with other scheduled events. If you sign up for this option during the online registration process prior to the March 19th deadline, we will assign everyone a specific time slot and notify you beginning on Monday, March 20th. (The sign-up option for the Resume Reviews is now closed.)
Professional Headshot Photos: We plan to have a photographer available from 10:30 am until 1:00 pm during the Student Conclave to take professional headshot photos of student registrants. This opportunity is free, included in your registration fee, and a photo will be emailed to the student after the event to use for job applications and interviews, etc.
Interested in sponsoring this event? See below! 
Important Dates
Now through March 25: Registration is Open
March 19: Deadline to sign up for Resume Reviews. See the section below for additional information. (The sign-up option for the Resume Reviews is now closed.)
---
Registration Fees
(Includes Continental Breakfast and Lunch.)
ILOTA Student Members and all ILOTA members: $35.00
(You must be logged in as a current ILOTA student or practitioner member in order to register at the $35 rate.)
Non-members: $60.00
(Student membership is only $25/year, so why not join first? Costs the same!)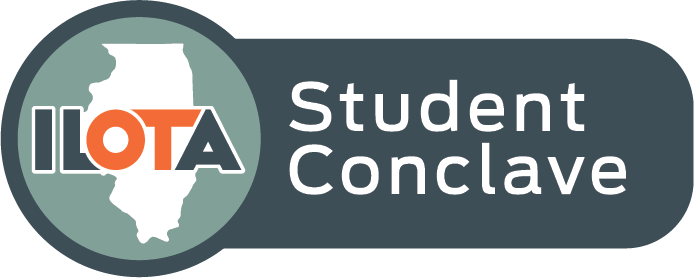 Venue:
Northern Illinois University – Naperville Conference Center
1120 E Diehl Road, Naperville, IL 60563
(Free parking, and the NIU Conference Center is wheelchair accessible.)
Interested in becoming a Sponsor for just $325? Read more here!
Sponsorship registration form is here!
Sponsors: