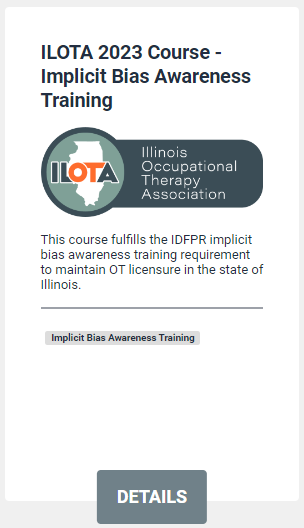 ILOTA 2023 Course - Implicit Bias Awareness Training
Registration Fees - Members: FREE  Non-members: $25
(CE credit: 1.0 contact hours in implicit bias awareness training.)
This course fulfills the IDFPR implicit bias awareness training requirement to maintain OT licensure in the state of Illinois.
Evidence suggests that everyone - including healthcare professionals - holds implicit biases that are shaped by one's background, cultural identities, as well as contextual and personal experiences. As a result, implicit bias impacts one's practice and can lead to health disparities amongst historically marginalized groups. This training will cover the distinction between implicit and explicit bias as well as cover the role of systemic oppression as one major cause for implicit bias. Using the Triple Aim as a framework, this training will describe how implicit bias impacts occupational therapy practice.  To effectively address the effects of implicit bias, the training reviews multiple strategies to recognize, interrupt, and mitigate implicit bias. As one way to work toward occupational justice across practice settings, occupational therapy practitioners should not only reflect on the effects of their implicit biases but also actively work towards reducing its impact.  
Objectives of this course include:
Explain implicit bias and how it varies from explicit biases

Recognize the causes of implicit bias

Identify the effects of implicit bias and its consequences in occupational therapy practice

List strategies to recognize, interrupt, and mitigate implicit bias for occupational therapy practitioners
This course is available on ILOTA's Learning Management System (LMS) website at this link. After you successfully register for this course, you will be sent a confirmation email message with a link to our LMS website. You will have to log in to the LMS website with the same Username and Password credentials that you use to log in to our www.ilota.org website, as a member or non-member. After viewing the recording, you must successfully complete (80%) a 10-question assessment in order to receive your CE certificate. The CE certificate will be emailed to you, and will be available on our LMS website under: My Account > My Certificates.
Registration Fees - Members: FREE  Non-members: $25
1.0 contact hours of continuing education credit in implicit bias awareness training will be awarded after viewing the video recording and successfully completing (80%) the assessment.
Course content, registration, assessment, and records provided and maintained by the Illinois Occupational Therapy Association.
The Illinois Occupational Therapy Association (ILOTA) is a recognized affiliate of AOTA. ILOTA is an approved CE provider in the
State of Illinois as indicated in Illinois Occupational Therapy Practice Act Rules Section 1315.145.