ILOTPAC
Illinois Occupational Therapy Political Action Committee
Frequently Asked Questions 
NEW! Illinois Representative Dagmara Avelar's Community Back to School Resources Event on August 14, 2021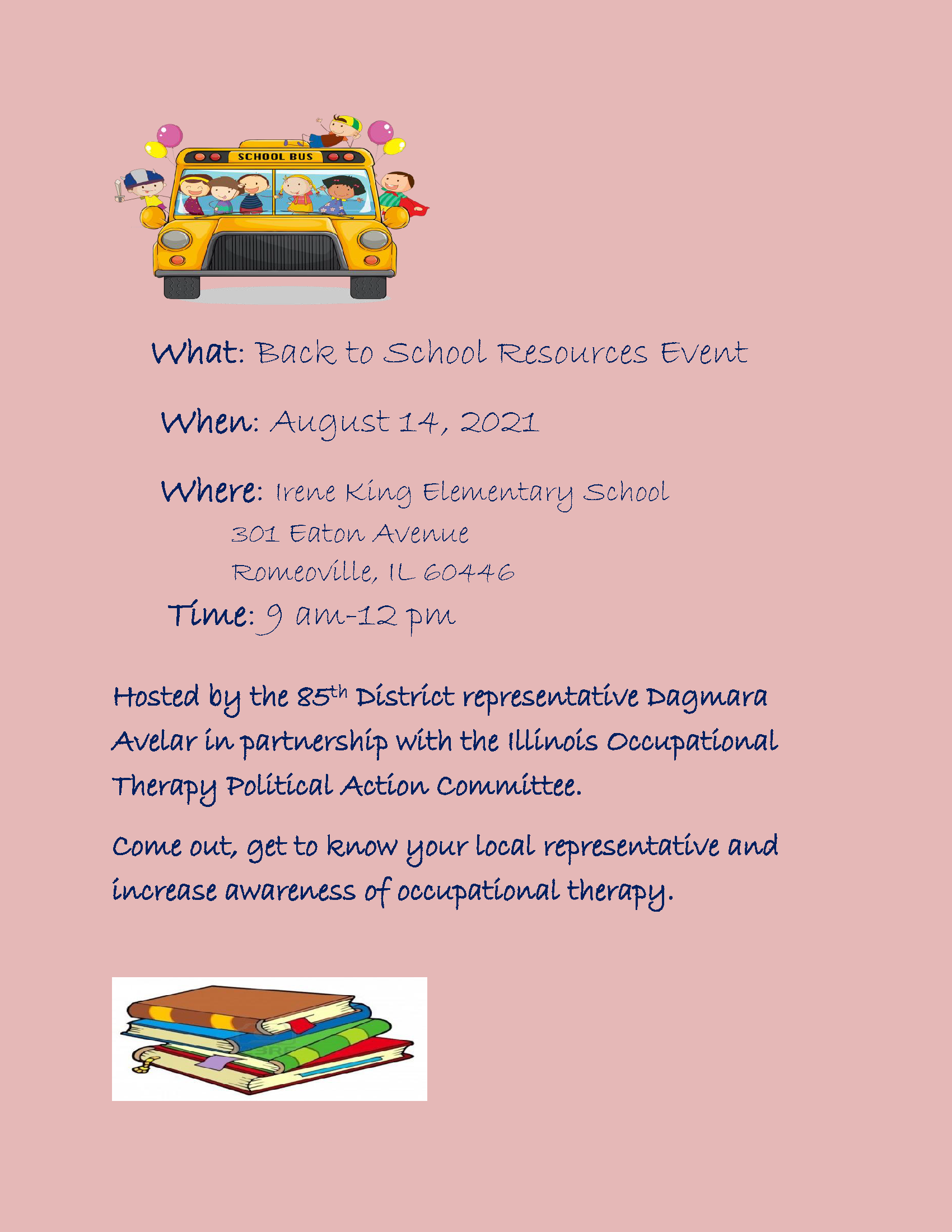 Date: August 14, 2021
Time: 9:00 am to 12:00 pm
Location: Irene King Elementary School, 301 Eaton Avenue, Romeoville, IL 60446
Purpose: State Representative Dagmara Avelar (85th district) is looking to provide families in her district with resources to help them prepare their children for return to school. Representative Avelar's office is looking for businesses and organizations to have a table of information to educate and inform families on information and resources in the community for families' overall well-being and successful return to school for their children. 
ILOTA aims to have a table set up to provide information on school success, proper backpack fit, promote literacy in children, establish family routines, and mental & emotional well-being. 
Publicly available tip sheets from AOTA will be distributed to families and include the following: 
Backpack Strategies for Parents and Students

Building Play Skills for Healthy Children and Families

Learning Through Play

Establishing Morning Routines for Children

Establishing Bath Time Routines for Children (Spanish available)

Establishing Bedtime Routines for Children (Spanish available)

Establishing Mealtime Routines for Children

OT Tips for Health and Success in Schools

OT Tips for Homework Success

School Tips for Parents: Academic Success and Social Participation
Activities to do with children and families at the event:
Perform ergonomic backpack fittings 

Lead gross motor games to educate the importance of movement to improve attention and focus 
If you are interested in volunteering for this event on August 14, 2021, please send an email message to Claudia Cirrincione, ILOTPAC Committee Chair, at cirrincionec.ot@gmail.com.   
ILOTPAC Background Information
A Political Action Committee (PAC) is an agent of an interest group, such as Illinois Occupational Therapy Association, and one whose function is to influence the outcome of an election campaign; ensuring the candidate, who is supportive of the goals of the interest group, wins.
What is a PAC?  
PAC's contribute to candidates who are sympathetic to their cause and to those who are likely to win the election and who have power and influence in the legislative process. The Illinois Occupational Therapy Political Action Committee, a separate entity from the Illinois Occupational Therapy Association, has contributed to campaigns of legislators who are on key committees that would affect Occupational Therapy.
What does ILOTPAC do for Illinois Occupational Therapy Practitioners?
ILOTPAC was created in 1985 by former IOTA president Lynne Barnes of Urbana. ILOTPAC relies heavily on the volunteer efforts of ILOTA members throughout the State to attend political events and inform the Committee regarding potential candidates to support. ILOTPAC helps give the profession a voice in assisting legislators to become elected and who will pass bills and regulations that affect the daily practice of occupational therapy practitioners.
By contributing to ILOTPAC, you have support to contact your local legislator, you increase the image of the profession, your facility, your area of practice, and as a healthcare practitioner supporting our clients' needs. YOU can also influence healthcare policy development in Illinois.
What action can you take to support these efforts? Contact your legislator via email, phone or set-up a face-to-face meeting. Start a conversation using the below listed questions.
Introduce yourself as a constituent first, then OT practitioner. Consideration could be given to the following:
Describing OT using description from ILOTA website
Identifying your personal professional experiences of the various types of interventions provided by you as an occupational therapy practitioner
Relating examples of recent public figures who have received OT services and typical OT interventions  
Inquiring if the legislator personally knows of anyone who has been a recipient of OT services
Using the term "occupational therapy" versus "OT" to clarify and clearly distinguish the profession from other therapy profession abbreviations (PT, ST, DT, etc.)
Identifying local community programs or service areas providing OT services within the legislator's district
Sample Interview Questions:
What made you run for political office?

 
What issues are priorities for you while you are in office?

 
What do you hope to accomplish during your term?

 
Since you have been in office, what is the most important accomplishment you have achieved, have been a part of, or hope to be a part of? (i.e., sponsorship of bill, etc.?)

 
Which committees do you Chair or are a committee member? Are you part of a committee that you are more active in or have a special interest? What led you to being a part of the committee(s)?

 
What do you find will be the largest challenge in implementing a health exchange in Illinois?

 
Does the proposed essential health benefit (EHB) plan for Illinois appear to be comprehensive to meet the health needs of the public? Would you modify any requirements of the plan?

 
How do you see the budget deficit impacting future healthcare services under Medicaid, EHB plans, or other related community health services?

 
Every month, watch the website and the Communiqué for featured legislators and respective ILOTA members who have contacted their legislators. Hopefully, these interviews will provide an exchange of information about current legislator efforts and raise awareness regarding occupational therapy here in Illinois. If you have any questions regarding volunteering, supporting legislators, attending political events, or suggestions, please contact Carol Michels or Claudia Cirrincione . 
Where, who and how does the ILOTPAC receive & use its funds? 
You can contribute to the ILOTPAC when you renew your ILOTA membership
Facilities and individuals can contribute to the ILOTPAC
Send a check or money order to ILOTPAC, C/o ILOTA 1717 Naper Blvd, Suite 200-15, Naperville, IL 60563
ILOTPAC donations are NOT tax deductible and CANNOT be made anonymously.  A copy of our reports filed with the State Board of Elections are available on the Board's official website (http://www.elections.il.gov/).
ILOTPAC funds are used to attend political events/fundraisers to support legislators and for campaigning.
If you have any questions regarding donations, use of funds, or supporting ILOTPAC please contact: