It's a Wrap! Our 2021 ILOTA Virtual Annual Conference Has Now Concluded!
ILOTA would like to sincerely thank everyone who participated in our 2021 ILOTA Virtual Annual Conference to make it so successful! From our scores of speakers to our amazing sponsors and exhibitors, we are grateful for your myriad contributions and support. And we are deeply indebted to the members of our conference planning committee who helped make this happen, in particular our conference chair, Maria Coronelli! We have already begun planning our 2022 fall conference, led by our new conference chair Veronica Fowler!
Although our conference has adjourned and our Learning Management System (LMS) website has gone dark, we still encourage you to visit the Virtual Exhibit Hall which will remain open. And you can still browse our list of generous sponsors to learn more about their organizations and how they support our profession.
Engage in a variety of on-demand and live events
while earning CE credits from the comfort of your home!
Earn 40+ CE hours and complete Sexual Harassment and Ethics
training courses in time for the 2021 licensure cycle!
Everything begins on October 1st. The Live Sessions will occur throughout
October and the on-demand Short Courses and Poster Sessions
will be available throughout October 

AND

 November!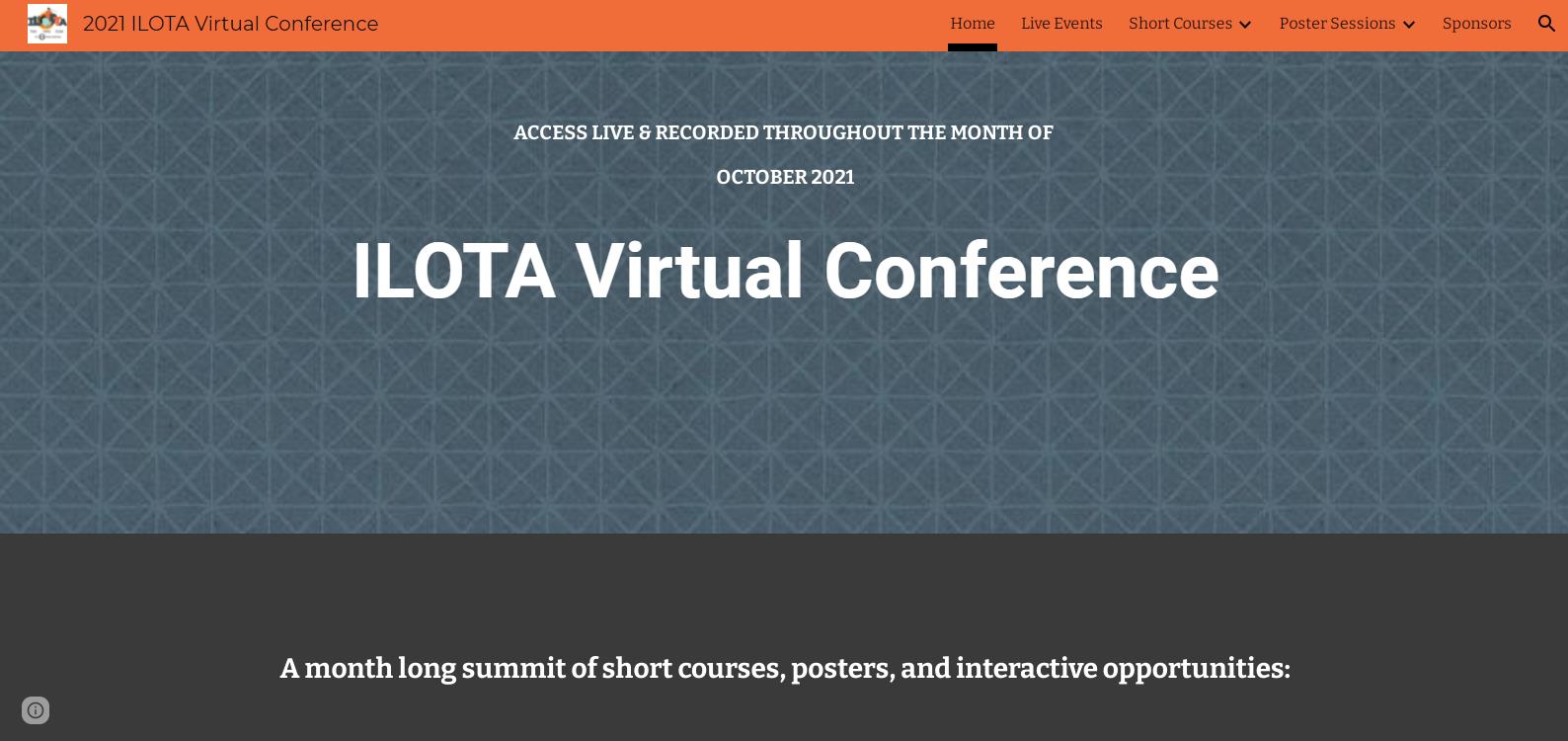 Brochure
Click here or on the image above to view the complete online brochure for the 2021 ILOTA Virtual Annual Conference. You will be able to browse the complete schedule and read about the Live Sessions, Short Courses, and Poster Sessions. And be sure to check out the series of "Conversations That Matter" - we'll keep adding, but you can now browse the first 10 scheduled programs that will be presented live at 7:00 pm on selected evenings throughout October.
Keynote Address and Annual ILOTA Membership Meeting & Awards Presentation
Save the date of Saturday, October 16th, to join us at 9:00 am for our Annual Membership Meeting & Awards Ceremony, followed by our Keynote Speaker Dr. Sally Wasmuth.
UPDATE on Live Sessions and "Conversations That Matter"!
We currently have 16 Live Events scheduled for evenings in October. Click here to browse the schedule of Live Events.
 We are still adding, but click here to check out the current 10 "Conversations That Matter" on these topic areas: Early Intervention, Gerontology, Justice, Equity, Diversity, & Inclusion (JEDI), Administration & Management, Assistive Technology, Developmental Disabilities, Occupational Therapy Assistant, Academic Education, Pediatrics, School-Based Practice, and Home & Community Health.
Registration Fees

Sponsors
A huge thank you to our incredible sponsors! 
Raffle Baskets to Benefit the ILOTA AOTF Scholarship Fund
UPDATE: The winners of all Raffle Baskets were randomly selected during an ILOTA Instagram Live Event on October 28th. Congratulations to the winners! Although you will not be able to purchase Raffle Basket tickets during the online registration process, you are welcome to donate directly to our ILOTA AOTF Scholarship Fund here.
During the online registration process, you will have the opportunity to purchase $5 tickets for any (or all) of our six Raffle Baskets. Or you can purchase them directly at this link. All proceeds from the ticket purchases will go to support our ILOTA AOTF Scholarship Fund. Thank you to our in-kind sponsors for donating these items for our Raffle Baskets:
Raffle Basket #1: 2022 ILOTA Full Conference Registration AND a One-Year ILOTA Membership

Raffle Basket #2: NBCOT Study Pack AND 1 NBCOT Practice Test *OTR or COTA

Raffle Basket #3: NBCOT Study Pack AND 1 NBCOT Practice Test *OTR or COTA

Raffle Basket #4: Tiesta Tea - loose leaf tea starter kit including a teapot, mug, samples

Raffle Basket #5: 3E Love messenger bag including water bottle, t-shirt, and more

Raffle Basket #6: Five Boxes of Kwik Stix from The Pencil Grip

NEW! Bonus Raffle! After all six Raffle Basket winners have been randomly selected, we will randomly select one winner for a $100 Amazon gift card from among ALL of the non-winning tickets purchased!
NEW! Second Bonus Raffle! Thanks to the generous donation from our sponsor and exhibitor, WPS, we will pick a second random winner to receive a (SPM™-2) Sensory Processing Measure, Second Edition and SPM-2 Quick Tips™
A Message from our Conference Chair, Maria Coronelli, MS, OTR/L
"We are excited to present the 2021 ILOTA Virtual Annual Conference in October. This year's theme is 'People, Purpose, Passion' and will highlight the uniqueness of OT clients and practitioners and the role they play within our greater society. This will be a month-long celebration with many interactive opportunities for professional development. The keynote speaker will be Dr. Sally Wasmuth from Indiana University who will be sharing her presentation, 'Sleepaway', which shares the story of two women recovering from Substance Use Disorder. Her live presentation will take place on Saturday, October 16th, at 10:00 am. Offerings for this year include short courses, poster session clusters/conversations, as well as SIS Roundtables and Conversations That Matter. Please reach out to Conference Chair, Maria Coronelli ([email protected]) with any questions"